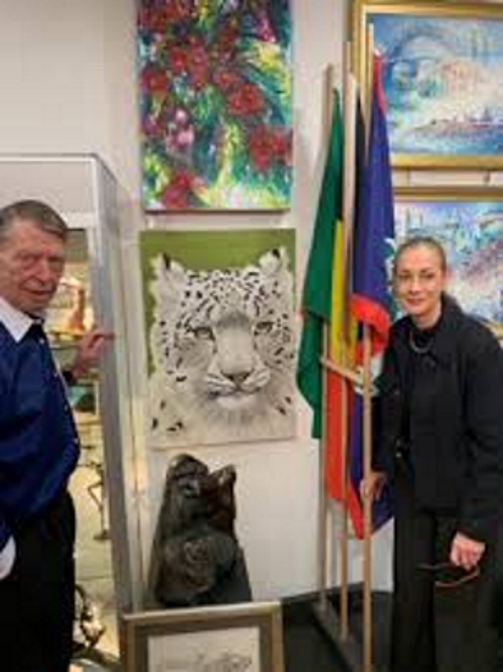 News
ARTIST CYNTHIA WARDEN LAUNCHES XTINCTION SERIES OF OIL PAINTINGS FEATURING ENDANGERED SPECIES
Xtinction Series Debuts at This is LA Premiere in Hollywood to Raise Awareness and Funds to Benefit Endangered Wildlife
Los Angeles-May 2017-. Artist Cynthia Warden debuted her ongoing Xtinction Series of Endangered Species oil paintings at the premiere party of This is LA at Yamashiro in Hollywood May 3, 2017 Celebrity attendees included Scheana Marie and LaLa Kent from Vanderpump Rules, Donnell Turner General Hospital, CSI and How to Get Away with Murder and Tiffany Panhilason from Angie Tribeca and Mercenaries.
Artist Cynthia Warden will be featured on an upcoming episode of this new lifestyle show airing on CBS featuring Southern California/ Los Angeles based artists, trendsetters and businesses.
Animals around the world are becoming endangered every day due to poaching, deforestation and loss of habitat As an artist and animal activist Warden's hope is to bring attention the the devastating reality that these animals are facing with many on the brink of extinction."It is my hope through art and this series we can raise awareness and funds to protect our wildlife throughout the world. As a species becomes endangered they will be added to the collection. To date the Xtinction Series features endangered species including the Tiger, Leopard, Orangutans, Gorilla, Lion, and Giraffe. Currently Warden is adding eight more animals to the series over the next few months. Cynthia Warden Art Episode will air July 9, 2017 at 3pm on CBS.
About the Artist:
It is said the "Eyes are the Windows of the Soul" and American artist Cynthia Warden's paintings are known to reflect that sentiment. Each painting whether human or animal captures the soul of the subject through their eyes. Some have commented that the paintings convey a confrontational aspect, and according to the artist that is the point. "It is my desire to have the painting and the observer connect, see and feel the emotion and spirit of the subject. I never know who or what emotion or message will come from the subject but that is the exciting part of the process and the underlining force of my work. Warden lives in Los Angeles, CA.